Our Preacher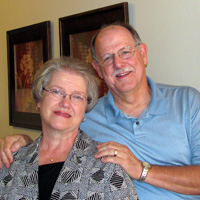 I am Joe Shane and I have been working with the church here in Middleburg since June 1, 2006. I am a native of Ohio but have been gone from there since beginning to preach fulltime in July 1977.  I have been married to my loving wife Connie for over forty-two years; we have four children, eleven grandchildren and three great-grandchildren.
Enough about my background, I want you to know that I have a deep concern for reaching people with the good news (gospel) of Jesus Christ. God's saving grace is the message of the cross and I want to share that message with others. But I am also saddened to see so many either unaware of that grace or being deceived by people about God's grace.
I am not looking to win debate points with anyone; I just want to share passages like 2 Peter 1:3, "as His divine power has given to us all things that pertain to life and godliness, through the knowledge of Him who called us by glory and virtue."  And John 4:24, "God is Spirit, and those who worship Him must worship in spirit and truth." If we keep these thoughts in our minds as we search for what God wants of us, I believe we will find the Truth that sets us free from Satan and sin!
Please feel free to communicate with me anytime by filling out the form below: